Dan Heyman, Public News Service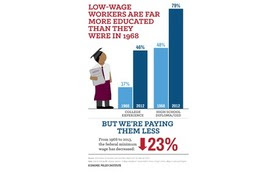 GRAPHIC: New research from the Economic Policy Institute indicates raising the minimum wage will not slow employment. Federal figures show the minimum wage has not kept up with workers' education levels or with inflation. Graphic courtesy of the Economic Policy Institute.
HARRISBURG,
Pa. – Gov. Tom Wolf has proposed raising Pennsylvania's minimum wage to $10.10 an hour, and new economic research suggests that shouldn't hurt employment.
Critics of increasing low-end pay say it prices some workers out of the job market.
David Cooper, a senior economic analyst with the
Economic Policy Institute
, says that used to be the standard thinking among economists, but a lot of recent studies have compared employment in one location that raises the minimum with a neighbor that doesn't.
Cooper says to their surprise, economists found very little difference in job numbers.
"Given the research, any effect on employment that would happen from these increases that we're seeing right now, it's going to be very small, whether it's positive or negative," he states.
Wolf's proposal would also index the minimum to inflation, so it would keep pace with the cost of living.
Cooper says one study looked at 600 pairs of counties along state borders, and the higher minimum didn't cause significant job losses. He says researchers found that with the higher wages, employers are getting lower turnover and higher productivity, more than enough to make up for the cost of the higher pay.
And he says many minimum-wage employers are in businesses that see higher consumer demand when low-income families have more money.
"That means there's more customers coming through the door, in the retail sector in particular and in fast food," he explains. "Presumably, a lot of those workers go out and shop in retail and buy fast food."
Cooper says the federal minimum wage hasn't been raised in years. He says since Pennsylvania still uses the federal minimum, that suggests Wolf's proposal shouldn't cause problems.
"Just strictly in purchasing-power terms, we could have a minimum wage of at least $10 an hour, or $10.10, as was talked about in Pennsylvania, and we would be no higher than we were 50 years ago," he stresses.