Dan Heyman, Public News Service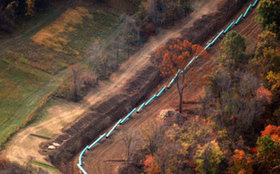 PHOTO: Pipeline opponents are asking federal regulators to thin out duplicate pipeline proposals that would carry Marcellus and Utica shale natural gas to markets on th east cost. Photo by the Dominion Monitoring Coalition.
PITTSBURGH
– Opponents of pipeline construction want federal regulators to say which of several near-identical natural gas pipelines don't have to be built.
Energy companies are asking to build three 42-inch gas pipelines to carry
Utica and Marcellus shale natural gas
to eastern markets.
Attorney Joe Lovett, executive director of
Appalachian Mountain Advocates
, says all the pipelines go from the same sources to the same markets, or connected markets.
Lovett's group has requested the Federal Energy Regulatory Commission (FERC) to perform an overall Environmental Impact Statement (EIS), which he says will force regulators to decide which of the projects is simply duplication.
"There's already a spaghetti of pipelines," he says. "We believe those pipelines are already sufficient to carry the gas from northern West Virginia and Western Pennsylvania to the south."
Other companies are asking to build a number of pipelines in Pennsylvania, some of which would connect. The companies argue there is sufficient demand to justify bringing gas to the southeast. They say the pipelines would actually serve separate markets, and need separate lines.
Lovett says once the gas is in the southeast, gas companies could reach various markets through the existing pipeline network. But he says pipeline companies have an incentive to build lines they don't actually need – and if the gas goes to regulated utilities, the cost would automatically be passed on to consumers.
"The companies are approaching this in a piecemeal fashion. We think that FERC has to look at it in a holistic way," he says. "You can't look at these things in isolation. I think FERC will realize that and will do it."
Virginia Senator Tim Kaine asked FERC to consider making the pipelines share a path, or even a single large pipe. Documents filed by the agency indicate FERC staff is weighing that option, although gas companies oppose it.
FERC may rule on an EIS and the pipeline applications this fall.