Andrea Sears, Public News Service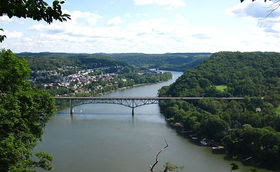 Runoff entering the Allegheny River contains arsenic, lead and mercury. Credit: David Fulmer/Wikimedia Commons
PITTSBURGH,
Pa. - A federal judge says PPG Industries violated the law by allowing toxic runoff from a former waste dump to flow into the Allegheny River.
The contamination enters into the river 38 miles upstream from Pittsburgh's primary drinking water intake pipe. David Masur, executive director of the environmental advocacy group PennEnvironment, says the runoff has been polluting the Allegheny for decades.
"Since 1972, this facility has been out of compliance with the Clean Water Act, with a whole set of harmful pollutants that put our environment and health at risk," says Masur.
Test data from the University of Pittsburgh found the water contained a variety of chemicals and metals including high concentrations of arsenic, lead and mercury. In a written statement, a PPG representative said the company "believes it has proactively and responsibly addressed conditions at the site."
According to Carolyn Smith Pravlik, lead attorney for the plaintiffs in the suit, the court's decision means the company may face monetary penalties as well as cleanup costs.
"PPG can be ordered to pay significant civil penalties and to remove the contaminated sediments from the Allegheny River," she says.
The ruling says PPG also violated the federal Resource Conservation and Recovery Act and Pennsylvania's Clean Streams Law.
Pravlik says enforcement of these laws is a matter of national significance.
"Everyone in the country is affected when a major corporation ignores environmental law that is intended to make sure we have zero discharge of pollutants into our nation's waters," she says.
Any cleanup and the amount of penalties PPG may be required to pay will be determined in future court proceedings.