Andrea Sears, Public News Service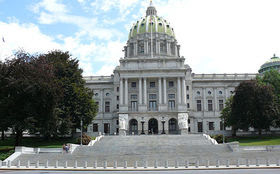 The Pennsylvania Supreme Court is being asked to decide whether the state is meeting its constitutional requirement to provide a thorough and efficient system of public education. Credit: Ad Meskens/Wikipedia.
HARRISBURG,
Pa. – A
lawsuit challenging state funding
for public education is going to Pennsylvania's highest court.
According to a coalition of parents, school districts and statewide organizations, the Pennsylvania Legislature has failed to meet its constitutional obligation to adequately and equitably fund public schools.
Jennifer Clarke, executive director of the Philadelphia-based
Public Interest Law Center
, says all schools are affected by decades of under-funding, although poorer communities have suffered the most.
"'Catastrophic' is too mild a word," says Clarke. "You have children in classrooms with 70 kids, schools with no foreign languages, no nurses."
Last April, a lower court dismissed the lawsuit, saying it was a political issue that cannot be addressed through the court system.
Clarke says that opinion was based on a Supreme Court ruling 15 years ago, before there was a system of statewide standards. Now, both state and federal governments mandate what the content of public education should be – and how to measure the results.
"We still think that the courts have a role," she says. "If the Legislature is going to establish content and require children to know it, it needs to fund it in a way that makes sense."
The plaintiffs in the case maintain that an over-reliance on property taxes to fund schools deprives students in poor districts of the resources they need to meet state academic standards.
Clarke notes the state constitution guarantees all Pennsylvania children a system of public education that is "thorough and efficient."
"Those words are in the constitutions of some half a dozen other states," she says. "All those courts have used that language to say they have substantive meaning that the court has to enforce."
The Legislature, governor, and state Board of Education have six weeks to respond to the Supreme Court brief. The court will likely hear arguments sometime next year.