Andrea Sears, Public News Service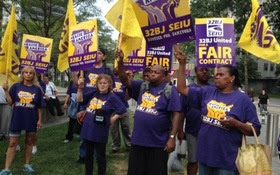 Commercial office cleaners in many eastern U.S. cities are currently negotiating new contracts.

Andrea Sears, Public News Service

Courtesy: SEIU Local 32BJ.
PHILADELPHIA
– As many as 2,000 janitors will converge on Philadelphia on Wednesday to rally for what they consider good jobs and fair contracts.
More than 75,000 office cleaners from Massachusetts to Virginia are bargaining for contracts this year. Juanita Acre, a member of local 32BJ of the Service Employees International Union (SEIU), says good paying union jobs are in jeopardy.
"You got the real estate companies throwing our people out of their building and trying to make it non-union," she says. "This is contract time and it's Important to us to stop them."
The rally will be held outside of a luxury high rise where the union says new building management illegally displaced union workers.
According to Acre, union workers are making a living wage. But while rent on residential and commercial real estate keeps skyrocketing, developers in Philadelphia and other cities are trying to push workers back to minimum wage levels.
"We're making $16.44. Some are making a little more than that," she says. "They're trying to break us down to $7.25, $8.25, $9.25, with no benefit."
The union calls this the largest private sector contract negotiations taking place in the country, affecting the lives of nearly half a million men, women and children.
Acre says the janitors and commercial office cleaners have worked hard to make a decent living for themselves and their families.
"We just want to be part of the middle class," she says. "We're not going to accept anything less. And we think we have what we earned and they're trying to take it away. We're not going to accept that."
The union says fair contracts will go a long way toward addressing the growing income inequality condemned by Pope Francis during his visit to the U.S.