Andrea Sears, Public News Service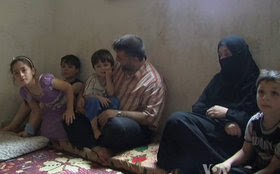 Syrian refugees now entering the United States began the process in 2012. Credit: Voice of America News/Wikimedia Commons
PHILADELPHIA,
Pa. - Following last week's terrorist attacks in Paris, at least 26 governors have said they won't allow Syrian refugees to resettle in their states but advocates say those fears are unfounded.
With millions displaced by civil war in Syria, President Obama wants the U.S. to accept 10,000 refugees in the coming year. Janet Panning, program director at the Lutheran Children and Family Service in Philadelphia, says only three percent of refugees are even considered for resettlement in the U.S. and those are then subjected to multiple security checks.
"This clearance process takes at least 18 months to four years. So the people that we're seeing coming in now are people that had started the clearance process in 2012," says Panning.
Once here, refugees are required to apply for a green card within one year, which initiates another series of background checks.
According to Panning, more than eighty percent of the refugees resettled by Lutheran Children and Family Service find jobs within four months of arrival.
"We're bringing in people that have immediate work eligibility and have fled their country, not because they didn't like it but because their neighbors turned on them or their government turned on them," she says.
The refugees she works with tell her they have two goals - educating their children and supporting their families.
In the wake of terrorist violence in Europe, Africa and the Middle East, Panning says fear is understandable but it's important to remember refugees are also victims.
"All of us want to keep ourselves safe and at the same time our hearts go out to people that flee persecution and our hearts go out to people that are impacted by terrorism," she says.
Governor Tom Wolf has said Pennsylvania will continue to work with federal officials to resettle Syrian refugees.